About.
---
Samuel Groves, a leading British cook & bakeware manufacturer
Global interest in British design and manufacturing has never been higher and Samuel Groves is building on this golden opportunity by continuing to invest in manufacturing equipment to produce the very best cook and bakeware at their manufacturing site in Birmingham.
Every range produced at our factory, we believe is the best you can buy, whether that's our robust Tri-Ply Stainless Steel or our Bakware Range.
Our foundation
Few suppliers of hospitality products go back as far as Samuel Groves. This venerable Birmingham-based manufacturer of kitchen equipment started in 1817, initially making brass candlesticks. By the 1870's, production had expanded to electroplated teapots and trays and it started to become a significant exporter in the 1910's.
The company was started by Samuel Groves Sr. and was subsequently taken over by Samuel groves Jr. in 1866.
Henry Groves 1862-1936, was the third and last generation in the family firm and was listed in the 1881 census as having the occupation of Metal Spinner, a process still used at today. In 1917 Samuel Groves was registered as a Limited company. Moving to Musgrave Street, Hockley in 1921.

Our growth
The big take-off into hospitality supply came during the Second World War when Samuel Groves won a major government contract to produce aluminium trays, with many other items for the Ministry of Works and the War Office soon being added. Including the Sirius incendiary bomb shield, utilising existing serving tray tooling.
The introduction of Mermaid
This helped reinforce the foundations of the modern business, which gained a major boost from the introduction of the Mermaid brand at the beginning of the 1950s, Molly the Mermaid had first appeared in the 1920's. The MD of the time saw a statue of a little mermaid in an antique shop and brought her back to Birmingham where she took up residence in the foyer of the factory. Her likeness has since proved an enduring logo.
Expansion of manufacturing capabilities
The move into larger premises in Norton Street, Birmingham in 1965 enabled the company to expand its interests in cookware, bakeware, hollowware and utensils.
Manufacturing operations were reinforced with the acquisition of the assets of G.W.Pearce & Co in 1995, which led to Samuel Groves becoming the original manufacturer of Agaluxe accessories for Aga Rayburn ovens and in 2002 with the acquisition of Buncher & Haseler, best known for its Longlife brand.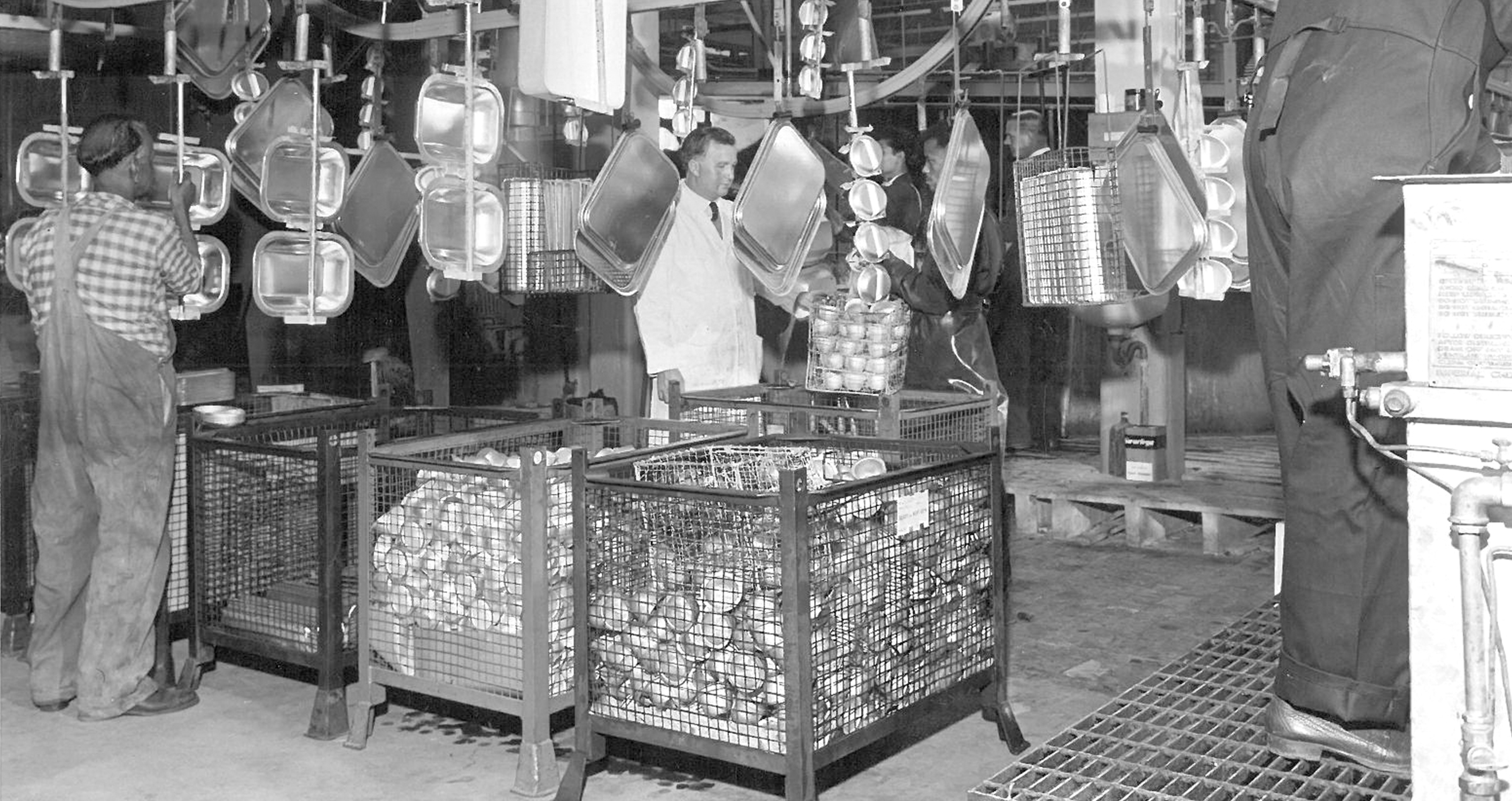 A new chapter
The purchase of Samuel Groves by U Group Ltd. in 2014 was the beginning of a new chapter. Under the leadership of Lee McDonagh, who demands nothing but the best, the company continues to develop new products and utilise new materials, all of which are being manufactured at the U Group premises in Yardley Birmingham.
Samuel Groves encompasses all facets of manufacturing including Metal Cutting, Presswork, Metal Spinning, Welding, Fabrication and Injection Moulding. In addition, we are able to design and manufacture our own tooling in house. 2017 also saw U Group Ltd. purchase Utensa, to increase in bakeware manufacturing capacity.
Our expertise
Our expertise in design, manufacturing and production can be utilised to develop bespoke cookware and bakeware using a variety of materials including aluminium, copper, stainless steel, mild steel and a range of plastics as well as numerous bonded materials. All developments are carried out in our factory and we welcome visits to discuss the best techniques and materials. We can then finish your product using a variety of finishing processes including Polishing, Sunraying, Hard or Soft Anodising, Powder Coating, Enamelling and Non-Stick Coating.
Made for the 21st century
Even though the market and indeed cooking practices have evolved over the years, Samuel Groves quality and processes have improved. We remain traditional manufacturers and every product we are proud to say are still hand-finished. We have been a manufacturer in Birmingham for close to 200 years, some of the skills that will be used in the factory today will have been used all throughout those 200 years.
Find out more
View our cook and bakeware collections here.
Interested in a bespoke range – fill out the contact us form.