Our seasoned carbon steel cookware is compatible with all heat sources, including induction hobs. They are oven safe and can be seamlessly moved between the hob and the oven - they can also be used on the grill, BBQ and open fires. The carbon steel makeup allows for heat to be evenly distributed throughout the cookware, helping to achieve the exact cooking results that you desire. Whether you're searing a prime-cut of steak on the hob, or serving up a seafood paella on the BBQ, the Seasoned Carbon Steel cookware range will always guarantee perfect results.
The Seasoned Carbon Steel range arrives at your door pre-seasoned, meaning it is ready to use right out of the box. With frequent use, and over time, the pans will develop a natural patina - an easy-release surface, that makes the cookware virtually non-stick.
When cooking on induction hobs, we advise that you slowly increase the temperature to combat warping that can affect carbon steel cookware at intense heat.
Handles
The ergonomic stainless-steel classic handle has been designed to provide the optimum length for best weight distribution and provides great comfort during cooking and serving.

---
Pans for Life
The Seasoned Carbon Steel collection qualifies for our Pans for Life scheme.
Guarantee
The Seasoned Carbon Steel collection comes with a lifetime guarantee. Buy once, use forever.
---
Suitability

| | |
| --- | --- |
| Height | 8cm |
| Handle | Classic |
| Length (inc. handles) | 22.5cm |
| Height (exc. handles and/or lid) | 6cm |
| Diameter | 12cm |
| Material | Seasoned carbon steel |
| Utensils | Any, metal utensils with care |
| Suitable Hobs | Gas, ceramic, electric, BBQ's & open fires. |
| Oven | 260c, 500F, gas mark 10 |
| Dishwasher | No |
| Pans for Life | Yes |
| Guarantee | Lifetime |
Related Products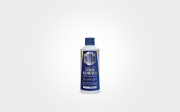 View Product